Products
Transit-Pelletsmethod™
Single X-ray method that can distinguish between normal and delayed CTT in both men and women
Clinically, the Transit-Pellets method is suitable to use in patients presenting with symptoms where a transit disturbance may be of pathophysiological and clinical importance, including chronic constipation and chronic diarrhoea.
The severity of the transit problem is quantifiable by the transit test and the result may be an important variable; it may facilitate the decision on further diagnostic procedures, it effects the choice of therapy and long-term prognosis.
Segmental and total colonic transit time is calculated according to the distribution of the markers in the different segments of the bowel. The transit time is equal to the total number of retained markers divided by the daily dose, which results in a colonic transit time value that is compared with normal values.
Segmental transit time; upper reference values

000000000000000000000000000000000000000000000000000000000000000000000
For more information, please see Reading the Results (you will be redirected to the Medifactia website)
Transit-Pellets method can:
Measure rapid, normal and slow colonic transit 1, 2
Differentiate between slow transit and normal transit constipation 3, 4, 5
Identify segmental colon dysfunction in patients with constipation 3
Differentiate between normal and rapid transit diarrhoea 6, 4
Identify treatment effects in patients with chronic constipation 7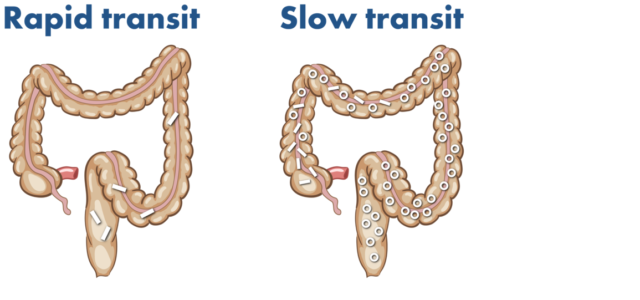 Intended User
The device is for a chronic or severe state, where the initial treatment has not resolved the abdominal discomfort, such as:
In patients with chronic constipation and used to aid in differentiating slow and normal constipation
In patients with chronic diarrhoea to determine if the dysfunction is linked to abnormally rapid or to normal transit rate
In patients with Irritable Bowel Syndrome (IBS) with troublesome constipation or troublesome diarrhoea


0
0
Transit-Pellets™ Radiopaque Markers
Product fully CE marked
Encapsulated pre-cut radiopaque markers packed for single patient use
Vegetarian capsules
Easy to administer
Manufactured in Sweden
FDA 510(k) Class II clearance for US-market
0
Principles of Operation
The device is prescribed by a physician for the patient to administer the device at home. The device is taken in a transparent HPMC capsule and passes through the mouth, throat and gastrointestinal tract. It is not surgically invasive.
On day seven, the patient undergoes an X-ray examination or fluoroscopy in a clinic. Based on the number of retained markers and their position a colonic transit time is calculated and compared to reference values.
The principle for the execution of colonic transit test with Transit-Pellets method and Transit-Pellets™ radiopaque markers:
Times specified above are examples only. The radiology examination should be scheduled 12 hours after the evening dose day six.
Media
Clinical Case Studies
C
Clinical References
1. Sadik R, Abrahamsson H, Stotzer PO. Gender differences in gut transit shown with a newly developed radiological procedure. Scand. J. Gastroenterol. 2003;38:36-42

2. Abrahamsson H, Antov S. Accuracy in assessment of colonic transit time with particles: how many markers should be used? Neurogastroenterol Motil. 2010;22:1164-69

3. Abrahamsson H, Antov S, Bosaeus I. Gastrointestinal and colonic transit time evaluated by a single abdominal X-ray in healthy subjects and constipated patients. Scand. J. Gastroenterol 1988;23 (suppl. 152):72-80

4. Törnblom H, van Oudenhove L, Sadik R, Abrahamsson H, Tack J, Simrén M. Colonic transit time and IBS symptoms: what's the link? Am. J. Gastroenterol. 2012. May;107(5):754-60

5. Abrahamsson H, Ostlund-Lindqvist AM, Nilsson R, Simrén M, Gillberg PG. Altered bile acid metabolism patients with constipation-predominant irritable bowel syndrome and functional constipation. Scand J Gastroenterol. 2008;43(12):1483-8.

6. Sadik R, Abrahamsson H, Ung KA et al. Accelerating regional bowel transit and overweight shown in idiopathic bile acid malabsorption. Am. J. Gastroenterol. 2004;99:711-718

7. Simrén M, Bajor A, Gillberg PG, Rudling M, Abrahamsson H. Randomised clinical trial: The ileal bile acid transporter inhibitor A3309 vs. placebo in patients with chronic idiopathic constipation-a double-blind study. Aliment Pharmacol Ther. 2011;34(1):41-50
ENQUIRE
BACK
Resources
Related products