Products
Passio™ Pump Drainage System
space
The Passio Pump Drainage System is designed to provide reliable low-level suction with a handheld pump that puts the control in your hands.
The Passio Pump Drainage System consists of a Passio Catheter, Handheld Control Unit (pump) and the Disposable Collection Kit, which includes a redressing kit, for drainage of recurrent and symptomatic pleural effusions and malignant ascites.
space
DRAIN SAFELY AT HOME
Please view our easy to use instructions on how to set up and begin therapy. Information can also be downloaded from our resources section.
T
TAKE CONTROL OF YOUR THERAPY
Precise electronic flow control
Consistent and controlled vacuum
Dual valve seal to prevent leaks
Convenient portable design
More discrete disposal system
Less bulky supplies
space
Passio Pleural Catheter

T
Passio Disposable Kit Contents
1x Collection bag with attached pump head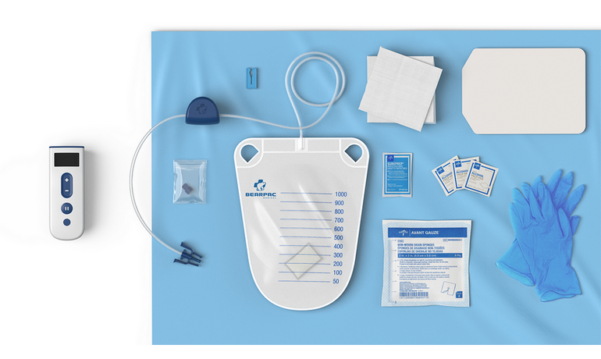 1x Redressing Kit containing:
1 pair latex free gloves
3 ea. alcohol prep pads
1 ea. catheter valve cap
4 ea. 4″ x 4″ gauze pads
2 ea. split gauze pads
1 ea. adhesive dressing
1 ea. removable blue slide clamp
1 ea. skin prep wipe
T
T
Passio Hospital and Community Training Service
We provide in person and online product training to both hospital and community healthcare teams/individuals.  Please email us at passio@aprmedtech.com to arrange a suitable time.
ENQUIRE
BACK
Resources
Related products